Current News:  The ECUA Material Recycling Facility (MRF) has temporarily discontinued service for accepting recycling until repairs are complete. Recycling cans are emptied and materials taken to the landfill. For more information click the graphic image below to learn more about recycling.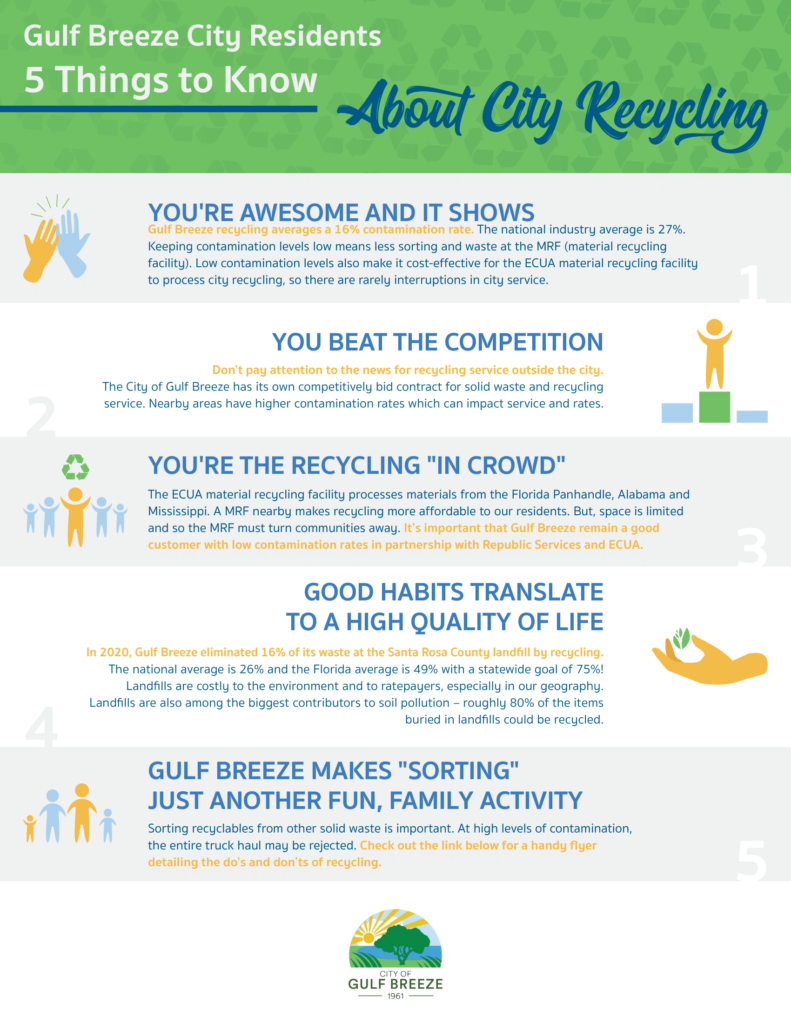 Gulf Breeze Garbage and Recycling Services:
Monday, Tuesday, or Thursday – household waste collection by cart; (varies by address. See CALENDAR for your assigned pick up day or call us at 850-934-5110)
Fridays – curbside recyclables collection on alternate weeks depending on blue or gray zone 
Wednesday – yard waste collection (Issued yard waste kart only).
Please note: Cart, recyclable cart, and yard waste should be no more than three feet from the street by 7am of collection day.
Optional services provided:
– Second cart
– Sideyard collection
FORMS
Residential Trash Form – to request a change in your garbage service. Forms may be submitted to the Utilities Department in City Hall or emailed to garbage@gulfbreezefl.gov.
COMMERCIAL GARBAGE COLLECTION RATES
(INSIDE CITY LIMITS ONLY)
Commercial customers should contact Waste Pro at (850) 365-1900.
OTHER HOUSEHOLD DISPOSAL
The City operates a waste transfer station for the convenience of City residents located just south of the intersection of Shoreline Drive and South Sunset. Hours are 7:30 am to 4:00 pm on Tuesdays, Thursdays and Saturdays (February – October) and Tuesdays and Saturdays (November – January). Excess yard waste, tree limbs, trunks and stumps, non-hazardous construction scraps, old furniture, appliances, etc., may be dropped off for disposal.  A fee is charged to cover transportation and disposal costs from the transfer station. Current fees are available at this link. There are also containers for recyclable deposit (cardboard, plastic, and metals).
You should NOT direct or expect home contractors or landscapers to be able to benefit from the transfer station convenience. The City does not offer large item pickup service. Many furniture and appliance retailers will dispose of your old furniture or appliance for free when they deliver the new one.

Questions, problems? 934-5100 (City offices).