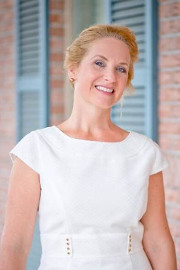 Samantha D. Abell is a credentialed public administrator specializing in growth management. Samantha was appointed City Manager by the Mayor and City Council on September 6, 2017, after previously serving as Interim City Manager since May and the Deputy City Manager since August, 2016.
Honors and Highlights:
2020 Gulf Breeze Citizen of the Year
2018 Paul Harris Fellow by Rotary Foundation International
2017 Top Ten Leading Mississippi Business Women
2016 Top 50 Leading Mississippi Business Women, MS Business Journal
2015 Georgia State University "Notable Alumni", School of Public Management and Policy
2012 Top Ten Business Leaders Under 40, Journal of South MS Business
2012 Roland Weeks Leadership Hall of Fame, Sun Herald
2011 Gulf Coast Business Council Master in Leadership Graduate
Community Involvement:
Samantha is a member of the International City/County Manager Association (ICMA) and Florida City and County Managers Association (FCCMA). She serves on various boards and committees, including:
FCCMA's Administration and Fiscal Responsibilities Committee
Florida-Alabama Transportation Planning Organization TCC, Chairperson
Santa Rosa County RESTORE Council
Fairpoint Regional Utility System Board of Directors
Gulf Breeze Rotary Club
Career Highlights:
Gulf Breeze, FL City Manager
Gautier, MS City Manager
Fort Walton Beach, FL Planning and Economic Development Director
North Little Rock, AR City Planner
Education:
Pennsylvania State University
Master of Professional Studies in Community and Economic Development
Georgia State University
Bachelor of Science, Public Administration and Urban Studies (Magna Cum Laude)
Personal:
Samantha's maiden name is Cain
Samantha met her husband in an Old Testament college class
They are "Cain and Abell"
We want to keep you informed about what's happening in our beautiful city. Each month, City Manager Samantha D. Abell provides to the City Council an overview of current projects, special events, and a snapshot of department activity. We hope you enjoy learning more about the inner workings of your City!
 Click this link or picture to launch the Year in Review.