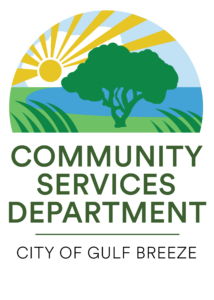 Craig Carmichael, Director of Community Services oversees many services that help keep the City of Gulf Breeze on the path as a resilient city. These services include the 5 divisions of:
Code Enforcement, Fire Inspections, Planning and Permitting, Neighborhood Services, and the Community Redevelopment Agency (CRA).
Please contact us directly for further information on any of the below subjects.
Main Office – 850-934-5109
Permit Application Links
City Maps
Frequently Asked Questions
Department of Community Services helpful links:
Plans Review
Business Tax Receipts
Oversight of Development & Architectural Review Boards and Board of Adjustment
Community Redevelopment Agency
Code Enforcement
Fire / Life Safety Inspections
Floodplain Management
Neighborhood Services
Other Important Links
Flood Information
FEMA – Federal Emergency Management Agency
Santa Rosa County Property Appraiser
Santa Rosa County Building Inspections
Florida Department of Business & Professional Regulation