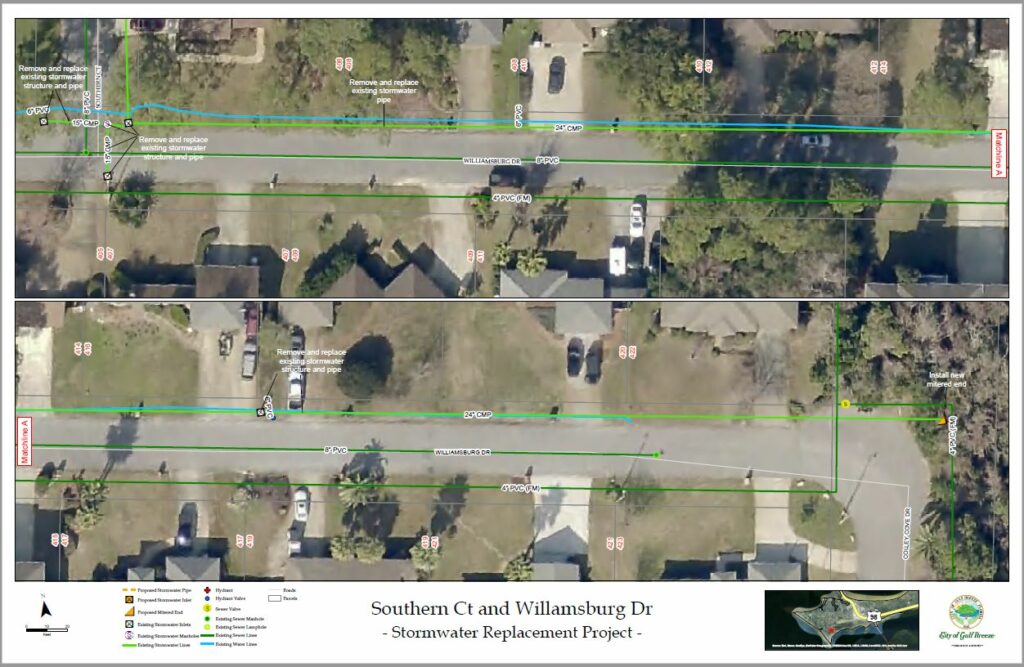 Williamsburg Storm Drain Replacement
Last updated on May 2nd, 2023 at 11:07 am
Williamsburg Drive Stormwater Improvements!
Due to the damaging effects of Hurricane Sally, from large amounts of high-velocity water, the City will be replacing three failing stormwater structures and 850 linear feet of collapsing corrugated metal pipe with cured in place (CIPP) pipe.
Project Milestones:
Council Approval to Advertise
05/06/2021
Complete
Advertised
05/06/2021
Complete
Pre-Bid Meeting
05/20/2021
Complete
Bid Opening
05/06/2021
Complete
Bids Received
06/07/2021
Complete
Awarded by Council
06/21/2021
Complete
Notice of Award
06/28/2021
Roads Inc. of NWFL awarded project
Notice of Intent
07/18/2021
Complete
Contract Signed
11/09/2021
Complete
Project Change Order
02/03/2021
Change order to scope of work
Tentative Completion Date
07/31/2022
Project Started
04/19/2022
Final Completion Date
No Photos Just Yet...
Back to Projects