SHORELINE DRIVE DETOUR / CLOSURE
Construction on Shoreline Drive immediately south of the traffic light for the High School parking lot (intersection of Shoreline / Daniel Dr / McAbee Ct) will require the closure of that section for an estimated three weeks beginning Monday July 27th.
For the first two weeks of the construction, two axle vehicles (cars and light trucks) may detour though the High School rear parking lot. (See image below). All vehicles towing boats or trailers and heavy trucks must access Shoreline Drive via Fairpoint and South Sunset Blvd.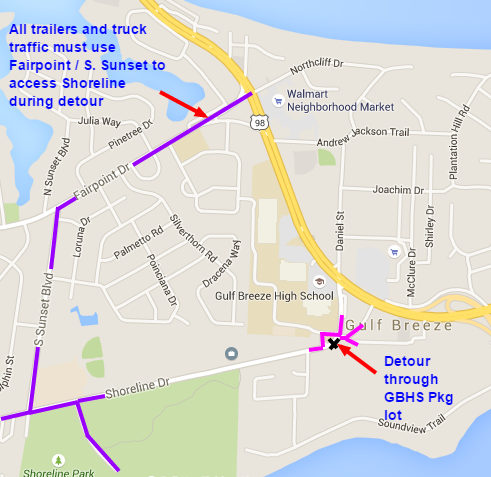 Why the Construction?
As part of the City's stormwater drainage improvement plan a major (30 inch) drainage pipe / outfall will be buried about 10 feet under Shoreline Drive. This drainage pipe is part of the design to improve storm water drainage in the neighborhoods immediately behind (west of) the High School. Local construction of the drains in those neighborhoods will take place in the fall of 2015, connecting to this outfall pipe in late fall.
Why now?
Traffic during the school year will be higher that it is currently, and at that time the parking lot can not be used as a detour. No one enjoys this inconvenience, but by doing the construction now there should be less traffic impacted for less time and there will be the benefit of the parking lot detour for the first two weeks of the expected three week construction.
During the third week of construction (if necessary), August 10th to 15th, the detour will not be available as school staffs and bus drivers prepare for school opening on August 17th. As a result, Shoreline Drive access at the construction site will be completely closed; all traffic will need to use Fairpoint and South Sunset to access Shoreline Drive. Trucks and trailers cannot be accomodated in the High School detour and so must use Fairpoint / South Sunset for the entire construction period.
Traffic message boards will be used throughout this period to help direct traffic. The City is anxious to minimize the length and amount of disruption, and thanks citizens in advance for their patience during this project.
Please direct questions to:
City of Gulf Breeze - Project Information Officer, Jim Cox - 712-5204
Utility Services Co. - Construction Manager, Daniel Eller - 554-7909
Lane Closures Planned for U.S. 98 in Gulf Breeze
The City of Gulf Breeze has been advised by the Florida Department of Transportation that drivers on U.S. 98 between the Pensacola Bay Bridge and the Gulf Breeze Zoo will encounter alternating lane closures from 7 p.m. to 7 a.m. Sunday, August 2 through Thursday, August 6. The closures will allow crews to perform pavement repairs in the City of Gulf Breeze, place the final layer of asphalt on the roadway within the Naval Live Oaks Park area, and perform shoulder widening work.
One lane of traffic will remain open in each direction and access to private property will be maintained at all times. Planned construction activities are weather dependent and may be rescheduled in the event of inclement weather.
For more information, the latest traffic advisories, and to sign up for project e-newsletters, visit https://facebook.com/US98GBP. Subscribe to text alerts by texting the keyword US98GBP to 313131 from your mobile device. You may also follow the Florida Department of Transportation District Three on Twitter @myfdot_nwfl or like us on Facebook at https://facebook.com/MyFDOTNWFL.
TIGER POINT WORKSHOP PRESENTATION AND REPORTS
During the City Council's June 15, 2015, workshop, the City's consultant, Private Club Associates, discussed the results of the Operations Audit prepared at the City's request and made a PowerPoint presentation in conjunction with the audit. To view the PowerPoint Presentation and other reports, please use the following links:
1. PowerPoint Presentation
2. Summary of Business Plan
3. Comprehensive Business Plan
4. Operations Audit
If you have any questions, please contact the Deputy City Manager, Curt Carver, at 203-6033.
POLICE DEPARTMENT UNDERTAKES TARGETED ENFORCEMENT STUDIES
Based on concerns we have received from residents regarding high traffic volumes and speeding on certain residential streets, the Police Department is performing targeted enforcement studies on Andrew Jackson Trail, Highpoint Drive, Kenilworth Avenue, and Plantation Hill Road. The data collected so far indicates that the average vehicle speed on those streets was either at or below the posted speed limits with the exception of Andrew Jackson Trail. The average speed for Andrew Jackson Trail was slightly above the posted speed limit. As a result, the Police Department will monitor this street more closely and issue citations when necessary.
The data collected by the Police Department will be provided to the soon to be formed Traffic Calming and Enforcement Task Force for their future analysis. Additional targeted enforcement will be undertaken as needed. If you believe your neighborhood is subject to excessive speeding violations, please contact the Sergeant Kerstan Tatro at the Gulf Breeze Police Department (850.934.5121) and discuss the possibility of targeted enforcement efforts in your area.
DISASTER PREPAREDNESS GUIDE
As you know, hurricane season began on June 1st. In an effort to provide you with information that will assist should we have a hurricane this year, the Santa Rosa County Division of Emergency Management has developed a "Disaster Preparedness Guide" that contains valuable information about hurricane preparedness before, during, and after the storm. It also contains other information regarding general preparedness, natural hazards (floods, wildfires, lightning, etc.), and technological hazards (HAZMAT incidents or terrorism). Here's the link to the Guide:
http://www.santarosa.fl.gov/disasterguide
. We hope you find it to be helpful.
Events & Meetings
Historical News Items
Categories