Market in the Breeze
Market in the Breeze is held every Tuesday afternoon beginning at 4:00 p.m. at the Gulf Breeze Community Center, 800 Shoreline Drive. For information regarding the Market contact Daniel Dugan at (850) 490-3729, or visit their website
http://www.marketinthebreeze.com/
.
Freeze Warning for the Next Two Nights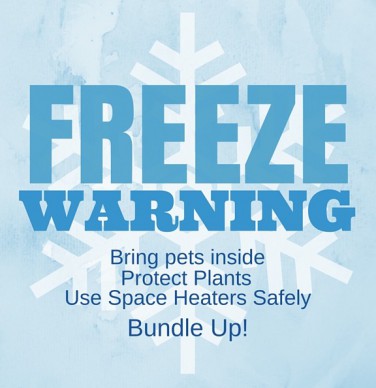 Hard Freeze Warning - Protecting People, Pets, and Pipes
The City of Gulf Breeze would like to remind its residents to take precautions as we reach near-freezing temperatures the next couple nights.
To avoid water pipes breaking due to cold temperatures, residents are advised to run at least one faucet in their home or business at a thin stream. This allows water to flow through the pipes and lowers the risk of broken water lines during freezing conditions. Should you experience or see a broken water line, please contact our Utility Department at 850-934-5100 (this number is answered after business hours too).
The City of Gulf Breeze offers these additional tips on dealing with extremely cold weather:
• Insulate all outside pipes with cloth or a similar material to help prevent freezing;
• Turn off automatic irrigation systems and be sure to drain valve, pump, and lines. Refer to the operator manual for assistance;
• The City of Gulf Breeze Fire Department advises residents to be extra careful when using space heaters. Make sure all combustible materials, such as drapes or chairs, are at least three feet away from any heater;
• To reduce the chance of fire, avoid using flammable liquids to start fireplaces and do not leave a fireplace unattended. Most importantly, check your smoke detector to make sure it is working properly;
• If possible, bring outside pets indoors during cold weather, especially at night when temperatures dip to their lowest; and,
• The City of Gulf Breeze Police Department recommends that you check in on neighbors and family members who may be more susceptible to cold weather conditions, such as the elderly or disabled.