Laying The Foundation: New Police Station And City Services Annex Ceremony
Tuesday, September 6th at 4 PM, the City of Gulf Breeze will hold a foundation ceremony at the construction site of the Police Station and City Services Annex on Fairpoint Drive. The new Police Station includes emergency dispatch and a city services annex for utility billing and customer service operations.
The public safety campus already includes the fire station. A full ceremony and tour will follow the completion of the project in late Fall 2023.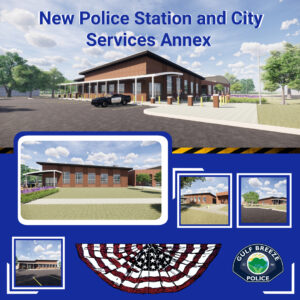 Back to Press Releases