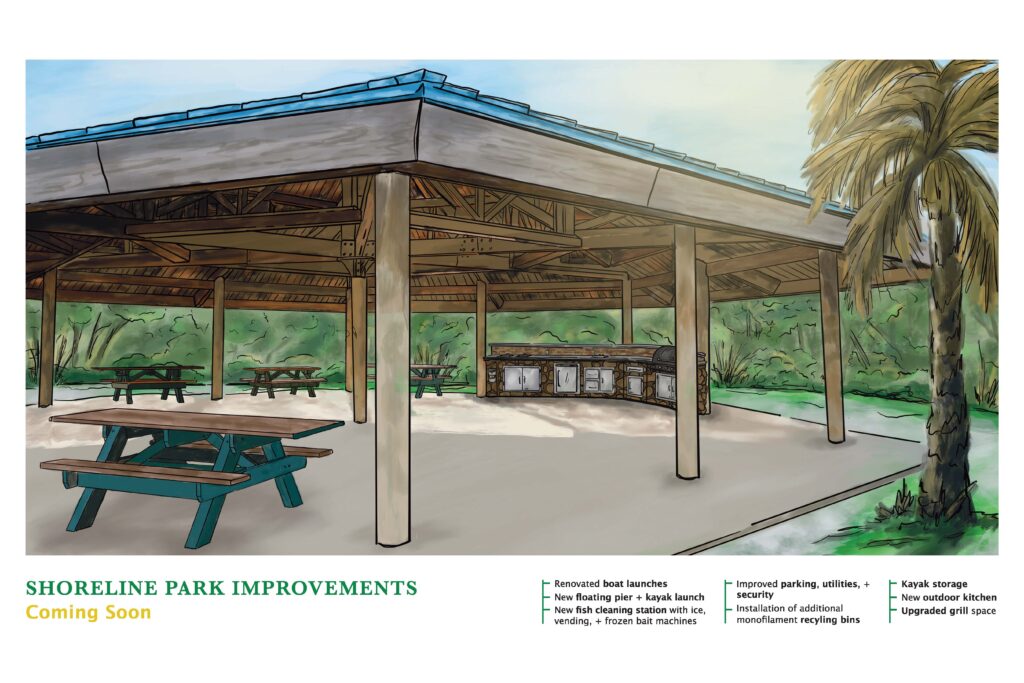 Shoreline Park Blueways Plan & Recreational Fishing Upgrades
Last updated on January 25th, 2023 at 06:20 pm
On December 21, 2021, the City Council approved the Florida Fish and Wildlife Conservation (FWC) Commission Grant Agreement No. 21127 for the Gulf Breeze Parks Boating and Fishing Access upgrades grant.
The grant is designed to help improve boating, paddleboard, kayak and fishing access at three of our local parks: Shoreline Park South, Vista Park & Pier, and Woodland Park.
July 2019, the City of Gulf Breeze joined the Florida Paddling Trails Association as an active Blueways Community, thus becoming part of the Florida Circumnavigational Saltwater Paddling Trail. 
Six months earlier on 
January 10, 2019, the Gulf Breeze Blueways Plan gained approval by the Gulf Breeze Advisory Parks Board and City Council. The Plan promotes tourist-oriented waterfront destinations for kayaks and paddlers: Shoreline Park South, Woodland Park, and Vista Park.
The City was awarded a $1.2 million FWC grant in order to design and implement the Plan '23-'24. Upgrades include a relocated floating dock at Woodland Park, new kayak launch at Vista Park, and numerous upgrades including a kayak launch at Shoreline Park South.
Project Milestones:
FWC Contract Fully Executed
02/28/2022
Complete
City Council approves RFQ advertisement for Engineering Design and Permitting
04/11/2022
Complete
City's Final RFQ draft
04/20/2022
Complete
FWC reviews/approved RFQ
05/18/2022
Complete
City published RFQ
06/02/2022
Complete
City's Procurement schedule
06/02/2022
Complete
Design & Engineering RFQ Awarded
08/09/2022
Complete-Baskerville-Donovan, Inc
SAV Survey
10/03/2022
Complete
Preliminary Design Schedule
10/24/2022
Complete
Design & Engineering Start
11/01/2022
Complete
Sec. 106 Archaeology Survey
11/28/2022
Complete
60% Design Submittal
05/29/2023
100% Design Submittal
10/19/2023
Bid/Construction
10/24/2023
Preliminary Construction End
06/25/2024
Project Photos:
Back to Projects