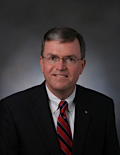 Councilman Todd Torgersen was elected to the Gulf Breeze City Council in 2018. His present term runs from December 2018 to December 2022. Seat C.
Contact Information
Councilman Torgersen has over 3 decades of experience in the group benefit business. After graduating from Florida State University in 1981 with a degree in business, he began a career with Blue Cross Blue Shield of Florida. After several successful years as an Account Executive and Marketing & Sales Director with Blue Cross and Blue Shield of Florida, Todd launched Combined Insurance Services in Pensacola, Florida. His business focus today, as President of Combined Insurance Services, is managing group operations for the company and handling group-specific client needs.
In addition to his degree at Florida State, Todd is recognized as a Certified Health Consultant, grading out in the top 10% nationally. He also completed the requirements for Syracuse University's Graduate School of Sales Management and Marketing. Todd holds membership in the Florida Association of Health Underwriters and the Florida and National Associations of Insurance and Financial Advisors.  He is also a Certified PPACA Professional, completing the coursework and exams required to gain the designation.
Todd is active in the community as past President of Five Flags Rotary of Pensacola and is currently on the board of ARC Gateway as past President.  Combined Insurance Services is a corporate member of the Chamber of Commerce in Pensacola and Gulf Breeze. Todd has also participated in United Way's Day of Caring, March of Dimes and served as a cook for Loaves & Fishes. He lives with his family in Gulf Breeze, Florida.