Gulf Breeze Police Department
www.gulfbreezepolice.com
311 Fairpoint Drive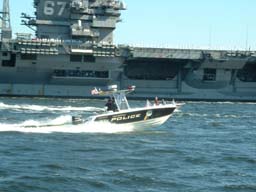 Gulf Breeze, Florida 32561
Accredited by Florida Law Enforcement Accreditation, Inc.
The mission of the Gulf Breeze Police Department is to provide for the real and perceived safety of the citizens of the community and it visitors; to reduce crime through vigilant investigation; to facilitate the flow of traffic in a safe and efficient manner; and to help to improve the quality of life in our
community.
The Gulf Breeze Police Department is comprised of twenty five full time employees, serving a population of approximately 5,900. While primarily a residential community adjacent to the City of Pensacola, average daily traffic counts through our City exceed 55,000 during the off season, increasing to 150,000 for special events on Pensacola Beach. As a result, it is necessary for us to supplement our force with paid part time police officers and volunteer auxiliary officers. We place a great deal of emphasis on providing quality services to our citizens, and because of this they express a high degree of customer satisfaction and their support for the Department is tremendous.
Frequently Called Numbers
| | |
| --- | --- |
| Area Code | 850 |
| General Information | 934-5121 |
| Records/Administration | 934-5121 |
| Investigations | 934-5122 |
| Animal Control | 934-5121 |
| Dispatch | 934-4050 |
| Elementry School Resource Officer/DARE | 934-5185 |
| Middle School Resource Officer/GREAT | 934-4080 |
| High School Resource Officer | 916-4127 |
| Fax | 934-5127 |