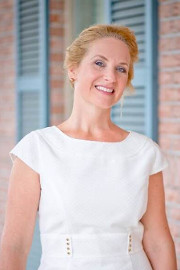 Samantha Abell is a 16-year public administrator with eight years of executive-level management experience specializing in economic development and strategic planning. Samantha began working as Deputy City Manager in August 2016, then the Interim City Manager on May 1, 2017, and on September 6, 2017, she was appointed by the City Council, the City Manager.  Samantha is a member of the International City/County Manager Association and Florida City and County Managers Association.

Contact Information
Phone: 850-203-6033 (office)
Email: sabell@gulfbreezefl.gov
Career Highlights:
2017 Top Ten Leading Mississippi Business Women
2016 Top 50 Leading Mississippi Business Women, MS Business Journal
2015 Georgia State University "Notable Alumni", School of Public Management and Policy
2012 Top Ten Business Leaders Under 40, Journal of South MS Business
2012 Roland Weeks Leadership Hall of Fame, Sun Herald
2011 Gulf Coast Business Council Master in Leadership Graduate
Under Samantha's administration, Gautier was recognized for 4 years for municipal excellence by the Mississippi Municipal League and Mississippi Economic Development Council, as well as the Southern Economic Development Council, winning over 17 states.
Career:
09/06/2017, City of Gulf Breeze, City Manager
05/2017 – 09/2017, City of Gulf Breeze, Interim City Manager
2016-2017, City of Gulf Breeze, Deputy City Manager
2012 – 2016, City of Gautier, City Manager
2010 – 2012, City of Gautier, Planning and Economic Director
2007 – 2010, City of Fort Walton Beach, Planning and Economic Director
2002 – 2007, City of North Little Rock, Planning and Special Projects Consultant
2000 – 2002, City of North Little Rock, Community Planning Department
1999 – 2000, Argenta Community Development Corporation, Special Projects Coordinator
Education:
Master of Professional Studies in Community and Economic Development, Pennsylvania State University
Bachelor of Science, Public Administration and Urban Studies, Georgia State University
Community Involvement:
Leadership Santa Rosa Class 31
Board of Directors for United Way of Santa Rosa County
Gulf Breeze Rotary Club
Gulf Breeze Will Do
Northwest Florida Institute for Women in Politics (IWP)
Personal:
Samantha's maiden name is Cain
Samantha met her husband in an Old Testament college class
They are "Cain and Abell"